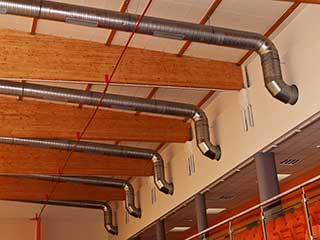 Should You Get Your Ducts Cleaned?
You want your business to be running as efficiently as possible, and a big part of that depends on the health of the people who work there. Poor air quality can cause all sorts of trouble, from fatigue to illness in those who already suffer from breathing disorders. What does this have to do with the indoors? Isn't the outside air more polluted? Surprisingly, this isn't the case if your air duct isn't cleaned regularly.
When the duct draws in air to disperse all over the building as heat, AC, or simple ventilation, it's also bringing in substances. Dust, allergens, and all kinds of particles build up over time. The EPA estimates that there can be up to 40 pounds of materials clogging a duct that's gone without attention. Even more worrisome, these blockages of dirt can cause bacteria and mold to grow if left untreated.
On top of all that, it also takes a toll on your energy bill. To force air through a duct that's choked up with dust, more energy must be used. It's a lose-lose situation when it comes to keeping costs down.
That's Where We Come In!
Our trained team has the best tools for the job, which means they'll be able to take care of your air duct in no time, then get out of your hair. Your workplace doesn't need any more distractions, so we'll do our best to take care of it quickly, while being thorough.
Using an agitator, we'll loosen the clog in the duct. Then, we'll use a vacuum to remove everything, leaving your duct clear and your air fresher. It may sound simple, but it's vital that a professional handle this job. Otherwise, the problem may only get worse! With our years of experience, you won't have to worry.
Don't Wait Any Longer!
Contact Dryer Vent Cleaning Houston today, and let us get to work for you.