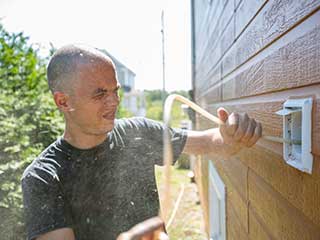 Out of all appliances out there, the dryer seems to get the least attention. Which is ironic, especially considering that in most homes it runs almost constantly. Naturally, this lack of maintenance takes its toll. According to the U.S. Fire Administration data team, a faulty vent causes 4 out of 5 structural fires in the country. These are drastic figures. However, lint build-up can cause other issues on top of being a serous fire hazard. Here are top 3 reasons to have your dryer vent professionally cleaned.
Household Safety

As mentioned above, a clogged dryer vent is a leading cause of household fires across the country. Other problems can also occur besides fires. When on a task, our technicians usually arrive when the damage has already been done. Water damage and appliance failure are the most common problems we witness regularly in Houston, TX.

Energy Waste Reduction

Are your clothes still damp after a regular cycle? Has it been long since your last cleaning? Homeowners who decide to have their dryer vent cleaned benefit from up to a $30 reduction on their energy bills. Even more, they have peace of mind knowing their dryer operates with more efficiency and takes less time to do a cycle. This means there is less chance of costly repairs down the road.

Toxic Fume Prevention

People whom have gas-operated machines made a great choice of having their clothes dried in a quick, budget-friendly way. However, just like water heaters, these dryers emit carbon monoxide inside your home if the airflow isn't terminated correctly. A properly maintained and regulated dryer vent will minimize the chances of this gas entering your home and affecting your indoor air quality.
Now that you know the importance of dryer vent cleaning, you can understand how far a simple cleaning job can go towards improving safety, energy and eco-friendly efficiency of your home. Keep the vent lint-free for a clean, safe operation of your dryer.